Monterey Park continues to grieve victims of mass shooting; VP Harris visits families
Monterey Park continues to grieve victims of mass shooting; VP Harris visits families
03:36
Vice President Kamala Harris started her Los Angeles visit Wednesday at the Monterey Park Star Dance Studio, where she paid her respects to the 11 victims who died in the mass shooting Saturday evening.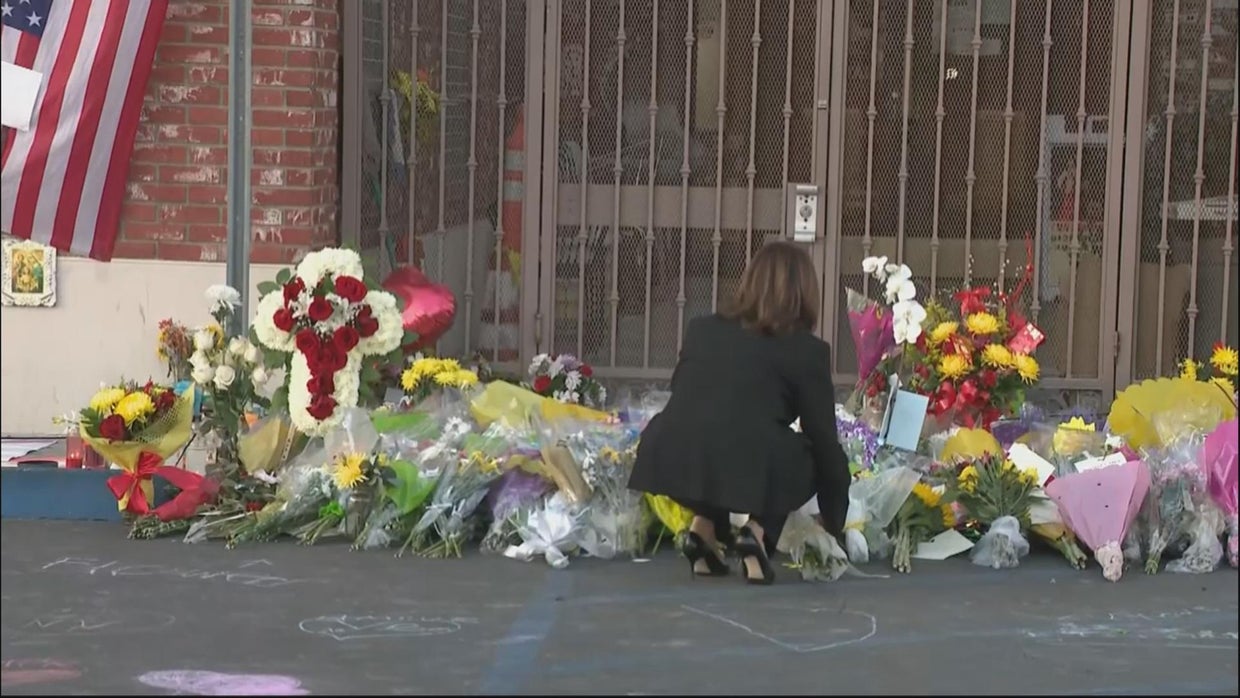 Vice President Kamala Harris lays a bouquet of flowers at the memorial for the 11 men and women killed in the Monterey Park mass shooting.
KCAL News
Harris made remarks at the site, voicing her condolences.
"We will always, as a compassionate nation, mourn for the loss and pray for those who survived," she said. "We need reasonable gun safety laws in our country," Harris said at today's visit.
She also addressed the need for federal, uniform gun control, comments she had made previously relating to the incident.
"I do want to address the tragedy of what happened in my home state in Monterey Park, California," Harris said while in Florida on Sunday. "A time of a cultural celebration and yet another community has been torn apart by senseless gun violence."
She brought up the issue of gun control once again, shortly after visiting the memorial, and called on Congress to take action.
"They absolutely can. They have the power to," Harris said. "Can they do something? Yes. Should they do something? Yes. Will they do something? That is where we must all speak up and speak to our elected representatives… in the interest of the safety, the security and the well-being of people like those whose lives were ended here and people around our country.
Her visit coincides with a planned vigil outside the dance studio, to be the fourth vigil in three days.
Harris plans to meet with the families of the victims killed as well as first responders.
The Vice President had toured the Tujunga Spreading Grounds in the San Fernando Valley last friday — the day before the shooting — to address the recent wave of storms that caused an estimated $1 billion in damages and losses across the state.
Thanks for reading CBS NEWS.
Create your free account or log in
for more features.