There's nothing like childhood—when the future is bright and a kid can dream of being anything. Whether you're looking to do a full reno in your kid's room or just a spruce up, why not try some of these creative ideas to make your space as unique as your child?
Try a cozy reading nook for your young book lover
If your child loves books as much as Zoe Leroy, a 7-year-old cancer survivor George Oliphant met in season 12, episode 7 of "George to the Rescue," a reading nook is a must!
With the help of Michael McCue from Bergen-Essex Contractors and Campbell Minister with Campbell Minister Design, George found extra space in an eave behind a small wall in Zoe's attic bedroom. But you don't need an actual nook to create a cozy place to read. It can be as simple as selecting a spot in the corner of your child's bedroom on the floor, or even in a closet if there's enough room.
Make sure there's plenty of lighting, whether it's a small reading lamp or overhead lights. Place a soft, neutral rug or carpet on the floor of the space. Add several plush pillows or even a big bean bag chair for them to lay or lean on to create a comfy, cozy kid's space to curl up with a good book. Some string lights hung around the area with command hooks create an updated feel and create a distinct space without committing to construction, and easy-to-remove star decals give this nook a dreamy feeling – perfect for getting lost in a good story!
Make a reusable art space for creative kids
George and Campbell didn't stop at Zoe's reading nook, they also dreamed up this unique art area that goes well beyond your average easel.
To try this at home, purchase a wall-mounted kraft paper roller and paper (the paper doesn't usually come with the roller). Use 3M Command Small Wire Toggle Hooks with adhesive strips to hang it on the wall.
Add a cup full of colorful markers and crayons and you've made an adorable art space that will inspire your child's creativity.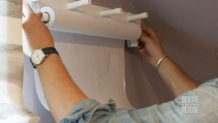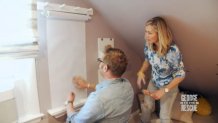 Encourage future pro athletes to dream big
After Zoe's room, it was on to big brother Alex's room. The "George to the Rescue" team went above and beyond by nabbing a signed Paul Pogba jersey for the young Manchester United fan. But you don't have to go to such extremes to elevate your average sports fan's bedroom. Some strategically placed swag and a few simple design principles can take a bedroom from average to inspired.
George and Campbell turned Alex's Pogba jersey into a work of art by having it matted and framed and then hung above his bed. The pair chose a simple, modern black frame and painted his bed black to match, creating a unified look. They replaced two small pieces of art with the framed jersey, making it a statement piece that set the tone for the rest of the room.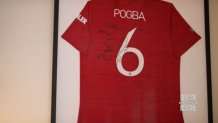 They pulled it all together by offsetting the black and white theme with red accents to match the jersey, giving Alex a room a sports fan can really get excited about.
Encourage your entrepreneur-in-the-making
When George met Peyton Triano – the 14-year-old founder of Eat Sweet, a baking business designed to donate food to families in need – he knew he needed to create a space that was as inspirational as she is.
George worked with Butter & Velvet home designer Michealine Fernandez to dream up a room designed to encourage.
George and his crew built a desk nook that featured a closeup shot of Peyton with entrepreneurial idol, Christina Tosi of Milkbar. That way every time she sat down to work, she had a clear vision of how big her dreams could become.
But dreaming big isn't just about work. George and Fernandez created an inspirational motif by framing her closet with word art.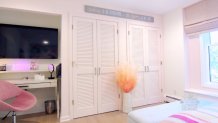 Click here to read more about Peyton's bedroom organization makeover.
And be sure to check out the full "George the Rescue" episode for more design inspo.
See more full episodes of George to the Rescue: