The LA County Fair, the mega-midway-esque, competition-quirky, critter-cute spectacular, is celebrating its centennial in 2022, and its first springtime affair.
True, the Pomona festival has long been a staple of late summer, but the event, "one of the largest county fairs in the country," opened on May 5, a date change prompted in part by cancellations in 2020 and 2021 (when a smaller fall food fest took place).
So you can bet appetite-focused adventurers, those fairgoers who seek out the fantastical foodstuffs first, are ready for the newest culinary creations, the whimsical, picture-worthy, on-a-stick, in-your-tummy treats the 2022 fair has to offer.
Take a look below at some of the temptations, including, you bet, the headline snack of the springtime celebration: Chicken Charlie's new Cherry Kool-Aid Chicken Sandwich.
Chicken Charlie's has become synonymous with decadent desserts, including this one: Deep-Fried Cheesecake.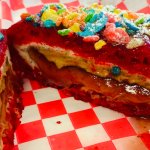 The offbeat eatery is also making Deep-Fried Strawberry Uncrustables.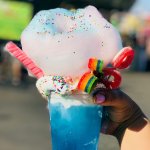 The Unicorn Float from the Candy Factory is full of fun and flair.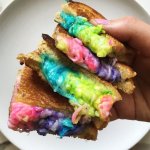 Rainbows are found throughout the fair food stands, including this rainbow of grilled cheese goodness.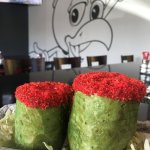 Deep-Friend chimichanga, delish: This goodie has buffalo chicken as well as mac 'n cheese.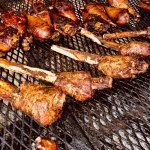 Turkey legs are a hearty staple of the walk-around-and-snack scene at LA County Fair.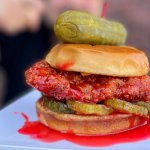 LA County Fair
And the buzziest bite of 2022: Chicken Charle's Cherry Kool-Aid Sandwich.