From Lookout employees
December 1, 2021 – Two artists have turned storefronts into mini art exhibits as part of Santa Monica College (SMC) Pete & Susan Barrett Art Gallery's efforts to expand art beyond their walls.
The artists Cole M. James and Michelle Carla Handel were invited to initiate the "Barrett Boxes" in the Art Complex on the main campus of the SMC.
Mini-exhibition by Michelle Carla Handel (Images courtesy of SMC Pete & Susan Barrett Art Gallery)
The works – which will be on view through January – were conceived to "question our relationship with what a display case is?" said Emily Silver, SMC professor and co-director of the gallery.
"How do we see the work? How close can we get to work? And what experience do we ultimately dictate to a viewer?
"Typically these showcases have housed objects with inherent spacing through panes of glass that ask the viewer to pause, look through and have a unique, but collaborative, collective view of the works that are so carefully and 'safely' exhibited," said Silver.
James and Handel "took very different approaches to creating a new relationship between object, performance, display and view," added Silver.
As an interdisciplinary artist, James uses both figurative and abstract images, sounds, and scents in his work to enhance the subtle way in which perception can break down and expand time.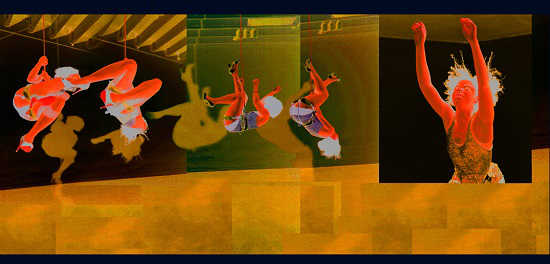 "Cross Dimensional Travel", a photomontage by Cole M. James
"I work as a negotiator, navigating the African diaspora, circling the vastness of queerness and crossing the feminine," said James, a racial and climate justice activist.
"I'm interested in the interfaces between digital production and analogue gathering of lived experience."
Handel, who lives and works in Los Angeles, creates unusual sculptures that have been exhibited in numerous locations, including the Five Car Garage in Santa Monica, which recently hosted a solo exhibition.
"I regard my sculptures as curious but insoluble arrangements in which the viewer has space for active participation," said Handel.
"I'm looking for material ways to describe the additional verbal understanding and the way our minds process the world around us."
Silver said both artists "have taken very different approaches to creating a new relationship between object, performance, display and gaze.
"You're shifting the role of a display case and asking you to take in the entire structure, move your body and look inward, around and below," said Silver.
Further details on the artists as well as complete artist statements will be published online under the link "Barrett Boxes" at smc.edu/barrett.
The Barrett Boxes present new installations all year round. For more information, call 310-434-3434.