Stevie Nicks isn't just a rock 'n' roll queen; She is also a fashion icon. Nobody else wears lace, velvet or chiffon numbers as black and mauve, paired with beautiful, custom-made scarves like her. Nicks' style (plus her general mood) might suggest that she is into the occult, but that's not the case.
She doesn't want to look like a witch, despite the fact that as a kid she liked to dress up as one every Halloween. Nicks shaped her distinctive style after seeing a random woman on the streets of Santa Monica.
Stevie Nicks | Richard McCaffrey / Michael Ochs Archive / Getty Images
A casual woman in Santa Monica inspired Stevie Nicks style
According to Pocono Record, Nicks describes her style as "a mix of gothic hippie, bohemian Californian girl and Victorian priestess".
The Fleetwood Mac front woman can trace the origins of her distinctive "Stevie Nicks style" back to 1970, to the days of Buckingham Nicks, the duo she formed with her boyfriend at the time, Lindsey Buckingham.
"Before their show at the Santa Monica Civic Auditorium, Nicks saw a woman walking by on the street," wrote the Pocono Record. "She was a vision in mauve and pink, with an edgy layered skirt, a riding jacket and cream-colored platform boots. Her hair was done like a Gibson Girl. And she wanted to be Nicks.
"This girl obviously had some money because that wasn't a cheap outfit. It was beautiful and I said, 'Oh, that's what I want to look like,' "Nicks recalled.
Nicks, however, wore their street clothes on stage for a year until a friend introduced them to a designer who "helped her bring her vision to life".
"On paper, Nicks sketched a stick girl with bell sleeves and a top hat. She has never gone on stage without some version of that uniform since then – except for a stop in the early 2000s when she injured her hip and was forced to wear tennis shoes. "
* {padding: 0; margin: 0; overflow: hidden} html, body {height: 100%} img, span {position: absolute; width: 100%; top: 0; bottom: 0; margin: auto} span { Height: 1.5em; Text-Align: Center; Font: 48px / 1.5 Sans-Serif; Color: White; Text-Shadow: 0 0 0.5em Black}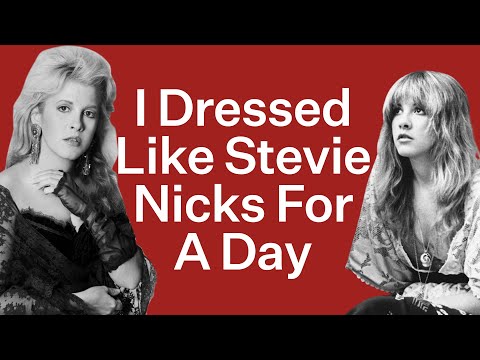 * {padding: 0; margin: 0; overflow: hidden} html, body {height: 100%} img, span {position: absolute; width: 100%; top: 0; bottom: 0; margin: auto} span { Height: 1.5em; Text-Align: Center; Font: 48px / 1.5 Sans-Serif; Color: White; Text-Shadow: 0 0 0.5em Black}