It's a sweltering summer day, no rain for months, but Nichols Canyon Creek is gurgling merrily on its two-mile journey from a rocky outcrop high in the Santa Monica Mountains to the white-hot sidewalk of Hollywood Boulevard.
As California languishes in drought, the spring-fed creek is cool and shaded by sycamore, oak, sumac, and laurel. Houses overlook its banks. Birds and insects flit above the water. Frogs croak. Deer, coyotes, and other animals quench their thirst.
Amid this riparian splendor, the creek feels like a fever dream of a greener, more sustainable city that lies maddeningly out of reach for most Angelenos. Maybe that's because, instead of winding through the Los Angeles Basin, Nichols Canyon Creek becomes a canal two-thirds of the way down, then disappears altogether into a storm drain as it hits Hollywood Boulevard.
After a series of destructive floods in the early 20th century, the city encased the Los Angeles River in concrete and channeled most of its creeks into concrete ditches or underground rather than restrict development in flood-prone areas. And so Nichols Canyon Creek, which flows year-round and ranges from a trickle to a four-foot-wide stream, depending on the season and terrain, completes its journey through the L.A. Basin in underground pipes before ultimately dumping into Santa Monica Bay. Its fate mirrors that of all the other creeks and springs as well as the excess groundwater and runoff that a county of 10 million people generates. Engineers have done an efficient job of removing water from this urban landscape.
Too efficient, according to coastal agencies, conservationists, and the passionate advocates for re-wilding the region's streams and creeks who are known affectionately as creek freaks. They say that as water becomes scarcer, more of the local supply must be captured in the region's aquifers instead of being diverted into storm drains and concrete channels and routed to the sea. Capturing rain and runoff higher up on the watershed would also keep it out of the L.A. River and Ballona Creek, the 8.8-mile concrete-encased river that flows through Culver City and Playa Vista on the Westside of L.A. before emptying into the sea.
This article appears in the Fall 2021 issue of Alta Journal.
SUBSCRIBE
"You don't want water to move quickly," says Melanie Winter, director of the nonprofit the River Project, who visited Nichols Canyon Creek one recent day to point out its benefits. "You want it to meander through the landscape, interacting with the plants and soil." That, says Winter, is where creeks come in. Earth-bottomed streams with native vegetation capture stormwater and runoff, filter out many pollutants, and allow water to percolate through soil into aquifers.
Protecting existing streams and "daylighting" others has myriad benefits for a city with one of the most dismal percentages of green space in the nation. Riverine environments provide shade, carbon sinks, and oxygen. They create biodiverse ecosystems that draw critters and migrating birds. They cool the landscape. And for humans, they offer a rare urban connection with nature.
Hydrologists estimate that nearly 90 percent of California's historic wetlands have been filled in or routed underground. But wild water still lurks in L.A. County's nooks and crannies, hiding like an endangered changeling in a hostile, precarious world.
Jane Tsong, a project manager at the Watershed Conservation Authority, stands in the bed of Eagle Rock Creek, which she would like to see restored. Like many of Los Angeles's waterways, the creek has been channeled.
Christina Gandolfo
He is cagey and vague, though several days later he emails some locations. He declines to give directions to the good ones, saying that they're unmarked for a reason: receiving too many visitors would overwhelm their fragile ecosystems. But he says that small streams and tributaries are everywhere in Los Angeles, if you know where to look. "They're hidden in plain view, but you have to do the research," says Christopher Nyerges, an Altadena naturalist and ethnobotanist who teaches wilderness survival. "The people who find them respect them and treat them properly. It's better not to publicly share them."
Nichols Canyon is one of many forgotten creeks that flow through L.A. neighborhoods and campuses. There's Rio del Jardin de las Flores in Brookside and San Rafael Creek in Pasadena, Kellogg Creek at Cal Poly Pomona and Stone Canyon Creek at UCLA. Tracking lesser-known waterways can require the detective work of a Philip Marlowe and the skills of a cartographer. But over the past decade, water sleuths have hiked the city and dug through archives to decipher old hydrology maps, geological records, historical accounts, and Google Earth in search of clues. They look for dips in the landscape, bridges, unexplained puddles and seeps, ravines carved by moving water, and clusters of mature trees and listen for underground gurgles near storm drains, often situated where water flows.
For years, the hub for urban exploration of L.A.'s lost riverine world has been the blog L.A. Creek Freak, founded in 2008 by Joe Linton and Jessica Hall. A friendly and inspirational resource, Creek Freak spearheaded an entire movement and accomplished the heroic task of mapping the county's historic creeks, arroyos, springs, and other wild waterways. The blog also chronicles riverine restoration projects, encourages old-timers to recall lost creeks of their youth, and urges Angelenos to launch their own explorations.
"People had sensed all along that they had missed something, and it was the water," says Hall, a landscape architect now based in Humboldt County. "Many of L.A.'s streams have been lost to development, but whether they'll ever come back depends on us."
Fellow creek freaks have swiftly taken up the challenge. On the blog LA Eastside, a creek freak named Chimatli used historic photos and books to explore the fate of Johnston Lake, a 19th-century watering hole for sheep between Highland Park and Pasadena. Chimatli assumed it had vanished, but they found it within a gated community, fenced off and hidden by foliage. In another post, they traced the path of Arroyo de las Pasas through Boyle Heights to a park near L.A. County–USC Medical Center, where it still appears after heavy rains. "The water remembers and will often follow its old course," Chimatli wrote. Another blogger, Militant Angeleno, followed the historic flow of Arroyo de la Sacatela from its source in Franklin Hills, above Los Feliz, through Koreatown and into Ballona Creek.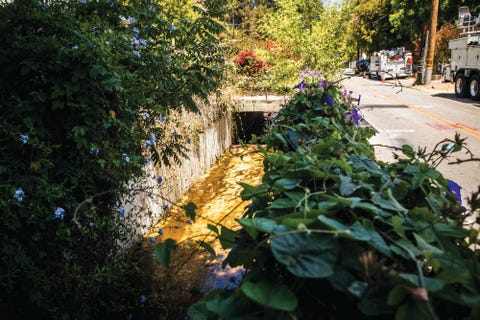 Nichols Canyon Creek meanders for two miles through a hilly Hollywood neighborhood before it lets out onto the western reaches of Hollywood Boulevard. From there, it continues its journey in underground pipes before dumping into the ocean.
Christina Gandolfo
This summer, I parked near the Eagle Rock post office, crossed a busy boulevard, and walked behind some nondescript office buildings to a cluster of mature trees at the parking lot's edge. There, just as I'd been told, was a hidden creek. Water emerged from a giant pipe just south of the Ventura Freeway, flowed a short way, then disappeared into the sandy soil. A verdant creek bed testified to the seasonal presence of water. The crunch of dead leaves, the scuttling of small animals, the screech of a hawk, the freeway roar, the flowing water—it created an urban symphony, the soundtrack to an ecosystem hiding, just as Nyerges had said, in plain sight. "We don't recognize them, because we've very much been taught not to see certain things," says the River Project's Winter. "Most people can't even tell you what the nearest waterway is or which tributary they live near. But it's everywhere."
That was true for Pennsylvania native Jane Tsong when she arrived at UCLA to study art. A neighbor mentioned a nearby location where water burbled up from the ground. It was Kuruvungna, the Gabrielino/Tongva sacred spring on the University High School Charter campus, in West Los Angeles; the spring pumps about 22,000 gallons of water daily into small pools, from which the flow is routed down a storm drain.
For Tsong, the existence of this urban oasis was a revelation. Soon it was a passion. When she moved to Northeast Los Angeles in 2002, neighbors told her about the wild water that had once flowed in the area. Old maps painted a picture of streams unobstructed by development. Enchanted, Tsong began cataloging the lost waterways, mentored by Creek Freak's Hall, historian Eric Warren, and others. She and a friend even pried open the cover of a storm drain above the North Branch of the Arroyo Seco and peered in. "You could see and hear the water running," Tsong says. "It was so magical. Immediately, you could feel the temperature drop. It got cooler, more humid; the quality of the air was different. Flowing there under our feet, the water was like music."
Tsong created a self-guided biking tour in Northeast L.A. called Myriad Unnamed Streams. She also parlayed her passion into a master's degree in landscape architecture and is now a project manager at the Watershed Conservation Authority. "The L.A. River gets more attention," says Tsong, "but people don't understand that it originates in creeks and tributaries, and each neighborhood has its own water history."
Consider Koreatown, one of L.A.'s most built-up neighborhoods. It's also home to the city's last natural hot spring. Creek freaks, fashionistas, and grannies alike frequent Beverly Hot Springs, whose thermal mineral waters reach 105 degrees. The spring dates to the early 20th century, when it was dug by oil prospectors. At one point, its owners bottled its "Wonder Water," marketing it as a cure for hangovers. By midcentury, business had begun to decline, and for decades the pipes were close to dry. But in 1984, a Korean American immigrant couple who recalled the springs of their homeland revived the spa, and it has flourished ever since.
It's impossible today to know how much of the water flowing under the city comes from a mix of suburban runoff and natural streams. Tsong says the amount of each varies with the location and season. But when she tested water samples from a Northeast L.A. stream and two streams in the Pomona area, the chemical compositions indicated the origin was natural groundwater.
Discovering urban streams can feel like stumbling through a Narnia door into a secret Los Angeles. While some, like Nyerges, are leery of publicizing the waterways' locations, others believe that's exactly what's needed to bewitch and galvanize the public. "We wish there were more creek freaks," says Tsong. "I want to share resources to inspire people in every neighborhood. We have to rediscover it. Reenvision it. We can't bring all the streams back in their original state, because most of the watershed that used to feed them has been built over. But if we want to think about meaningful watershed restoration on a larger scale, we really have to re-vision the way we think about 'restoration.' Urban creeks shouldn't just be a niche thing; we want everyone to know about them."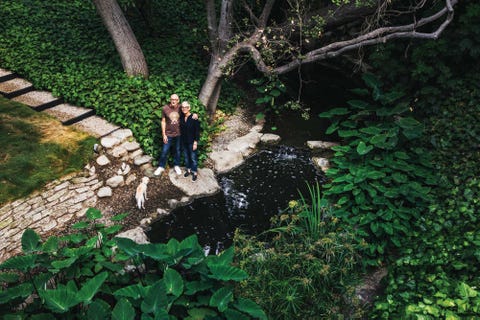 Many of the creeks and watersheds in the Los Angeles Basin can be found on private property. When David and Jennifer Ritch bought their 1954 house in Pasadena a couple of years ago, it came with a spring-fed creek. The lush habitat is home to freshwater crayfish, clams, and other aquatic life.
Christina Gandolfo
For centuries, Los Angeles has swung between drought and flood. During the devastating drought of 1862–65, crops shriveled and tens of thousands of cattle died, decimating the industry.
Periodic floods wreaked a different havoc. The L.A. River, which runs 51 miles, from the Sepulveda Basin in the San Fernando Valley to the Long Beach Harbor, could be mostly dry nine months of the year and overflowing the other three. Picture Greater Los Angeles as a bowl surrounded by the San Gabriel, Verdugo, Santa Susana, and Santa Monica Mountains and numerous smaller hills. Each storm sends water hurtling down hundreds of tiny creeks and tributaries. Along the way, they merge with bigger creeks and streams and eventually join the L.A. and San Gabriel Rivers and Ballona Creek, which all pour into the sea. Floods occur when these major waterways overflow, such as during the historic 1938 deluge that cost 115 lives and prompted the U.S. Army Corps of Engineers to tame the L.A. River in its concrete channel.
As the city grew, it struggled to contain not only the big rivers but also the patchwork of swamps, lagoons, artesian springs, marshes, and sloughs that dotted the L.A. Basin, where developers wanted to keep building. The solution: drain what it could and route everything else into underground pipes that would carry it into the sea.
In his illustrated 1964 book, Bunker Hill, Los Angeles: Reminiscences of Bygone Days, writer and painter Leo Politi recalls visiting a 90-year-old friend. "He told me…he learned to swim at a pond at Second and Beaudry streets. It was a natural pond formed by a brook that ran down from Echo Park Reservoir." That brook was Arroyo de los Reyes, which once flowed through downtown. It's long gone, or perhaps it lingers underground, but throughout Los Angeles County, place-names reflect the riverine past.
Lakewood was named after a lake created by an artesian well. Artesia was known for its artesian springs. Laguna Road in Pasadena ran along a spring-fed lake and creek. La Cienega Boulevard was named after the area's ciénegas, or wetlands. Marsh Street in Atwater got swampy when the L.A. River flooded. Santa Fe Springs, now heavily industrial, was named after a thermal spring resort.
Water was so important in the pueblo's early days that the zanjero, an appointed city official who oversaw the system of canals along the L.A. River, earned more than the mayor. Bitter fights over water rights often broke out and had to be settled in court. Eventually, L.A. water superintendent William Mulholland and other city officials schemed to import water. The city began channeling Owens Valley water to the coast via the 233-mile Los Angeles Aqueduct, and it secured rights to Colorado River water that guaranteed the city's supply for decades. But as the Sierra Nevada snowpack dwindles, Los Angeles can no longer count on mostly imported water. The Metropolitan Water District of Southern California says its strategy for the future focuses on conservation and storage of local water.
The devil's in the details, though. In early 2021, the county released a 494-page draft of its LA River Master Plan, which recommends raising channel walls and levees and building a nine-mile diversion tunnel beneath the city. The document says it's not feasible to capture more water upstream or naturalize large swaths of the riverbank. This appalls environmentalists who contend that the county used skewed, obsolete statistics to claim that restoration won't work. They say that only by naturalizing the river, allowing aquifers to recharge, and concentrating development away from flood zones can L.A. survive.
Things could have been much different. In 1927, Los Angeles commissioned a parks report from two top landscape architecture firms, Olmsted Brothers and Harland Bartholomew & Associates. The report recommended turning L.A.'s floodable lowlands into parks that would double as flood-control areas during storms. It also warned strongly against developing these areas. Alas, the Great Depression had just hit when the report was published, and the proposal went nowhere. But to creek freaks and others, it remains a tantalizing blueprint for how to revitalize the city's waterways.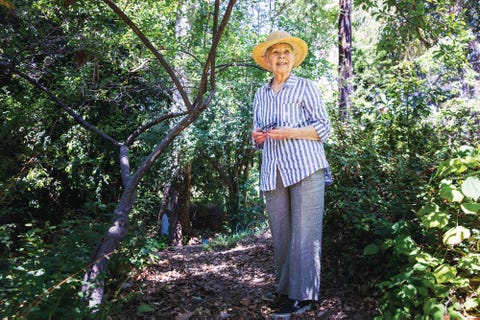 A resident of Brentwood for 45 years, Ellie Pelcyger works to raise awareness of the fragility of the neighborhood's Kenter Creek, which flows in her backyard.
Christina Gandolfo
As debate over the L.A. River rages, the idea of restoring wetlands has quietly taken root in small pilot programs throughout Los Angeles County.
Johnny Carson Park, in Burbank, sits atop Tujunga Wash creek, a tributary of the L.A. River that captures much of Burbank's rainwater and suburban runoff. For decades, the creek languished in concrete. Six years ago, Burbank undertook a $3.7 million park renovation. It removed asphalt and concrete from the streambed, turning the 885-foot-long storm channel back into a natural creek, with eight acres of wild habitat. The resulting bioswale is an urban oasis that environmentalists would like to see replicated countywide. "We're at a critical juncture right now," says Winter. "All our waterways should be living waterways, and few should have hardened sides. Climate change and biodiversity are indivisible."
Is it quixotic to rhapsodize about daylighting creeks and restoring the L.A. River when we face dire water shortages and 100-year storms? It depends whom you ask. But there is growing recognition among diverse and often competing interests that water policies that worked in the past are no longer viable.
No one is suggesting that L.A.'s remaining wild water can satisfy the thirst of 10 million people. Many historic waterways are long dead, and others may not be revivable, even if the political will exists. Still others may be polluted or stuck underground because development covers their ancestral paths. But many tributaries could play small, important roles in regreening and cooling the region.
One example is Bimini Slough Ecology Park, in Koreatown, which remakes a tiny portion of Arroyo de la Sacatela. That creek once fed marshland that stretched 40 acres west of downtown, as well as the historic Bimini Baths resort, at Vermont and Third Street (which today is parking lots and buildings).
But then a ghost rises from the landscape.
While it is human-made, the half-acre park replicates the natural functions of the Sacatela, slowing down rainwater and runoff and providing vegetation to break up pollutants before the water percolates into the soil. The city, the state, and donors funded the $750,000 project. "We need thousands of parks like this spread throughout our communities," Hall wrote on L.A. Creek Freak, pointing out that installing a single storm drain could cost $400,000 and wouldn't conserve any water.
Civic improvements can help, but they can also spell danger for creeks. After construction began on the Purple Line for L.A.'s rail system, Metro, in 2016, pumping stations were installed along Wilshire Boulevard. Shortly thereafter, residents of the aptly named Brookside neighborhood in Mid-City noticed that their beloved Rio del Jardin de las Flores was drying up.
The stream starts in the Hollywood Hills and runs above- and belowground (it's visible inside the Wilshire Country Club) to join Ballona Creek. It used to flow aboveground between Wilshire and Olympic Boulevards, but homeowners report that it now often dries up by Ninth Street. Metro says that's not its fault because its pumps, which won't be removed until 2023 or 2024, aren't near the creek. It blames other construction and drought; record rains in 2019 barely helped. Meanwhile, the city's Watershed Protection Program is exploring the feasibility of replenishing the creek with runoff from storm drains that currently flows into the ocean (the agency concurs that Metro's construction is likely not the main cause of the reduced water flow).
A much larger problem plagued another Metro project in 1997, when tunneling through the Hollywood Hills caused a 50-foot waterfall and several streams to dry up in Runyon and Nichols Canyons. At the time, the rail system's powerful pumps were draining one million gallons of water from its tunnels each day, which lowered the water table by up to 130 feet in the Hollywood Basin. This in turn endangered streams, wildlife, and vegetation, including trees that prevent erosion and mudslides and help retard fire.
In years past, Metro has pumped as much as 380 million gallons of water a year from its tunnels into Santa Monica Bay. The long-term environmental impact of sucking out so much underground water to keep subway tunnels dry is impossible to assess. But it is potentially immense.
In the Hollywood Hills, Metro offset some of the Nichols Canyon Creek loss by pumping in new water from L.A. Department of Water and Power mains, but using LADWP water to replenish streams is hardly a long-term solution. Whether from drought, aquifer depletion, or some other cause, 25 years later, Nichols Canyon Creek is a shadow of its former self, say old-timers like Michael Hacker, who as a kid swam in the creek and a creek-fed lake just up from Hollywood Boulevard. He recalls that hippies used to walk up for picnics and swimming. Today, the onetime lake is a concrete flood-control basin that's fenced off and festooned with No Trespassing signs.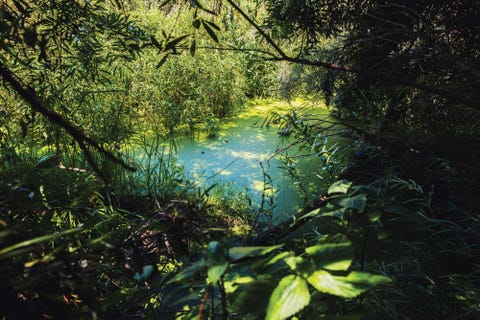 Duckweed, an important high-protein food source for waterfowl, sits atop the waters of Tujunga Wash creek, which was daylighted by the city of Burbank as part of a $3.7 million renovation of Johnny Carson Park.
Christina Gandolfo
Because of rampant development, many of L.A.'s surviving creeks now flow through private property. While it's illegal to dam or divert them, it's unlikely that inspectors will peer over walls for violations. Yet what happens upstream can silt up, block, or alter a creek's path downstream and cause flooding during rains.
David and Jennifer Ritch, of Pasadena, own a 1950s "bridge house," one of a handful of homes built over the San Rafael Creek by midcentury architect J. Putnam. The creek originates at spring-fed Johnston Lake and flows into the Arroyo Seco. When debris from homes higher up clogs the flow, the creek slows to a trickle, David Ritch says. But it's a small community that cherishes its creek, so problems are quickly resolved.
This isn't the case for the South Brentwood Homeowners Association as it seeks to protect Kenter Creek, a year-round, spring-fed stream that starts in the Santa Monica Mountains and flows through an estimated 75 properties in Brentwood and Santa Monica before discharging into a storm drain just above Wilshire Boulevard.
Ellie Pelcyger, who is 85, has lived in her Westside home for 45 years. At the bottom of her backyard, Kenter Creek flows lazily along, and nearby, trees that are more than 100 years old grow undisturbed. Mosquito fish dart in the cool waters. Duckweed floats on the surface. Pelcyger says that great white herons, ducks, and other migrating birds use the stream. "It's a rare treasure in the middle of the city," she says. "I wish everyone had the opportunity to see this."
Not everyone shares her reverence. One Sunday in 2014, Pelcyger and her neighbors woke up to discover a developer illegally grading a lot; his bulldozer was stuck in the creek. "We called the police," Pelcyger recalls. "We called Fish and Game. We called the city and everyone else we could think of. And we got him stopped."
The homeowner group also formed a committee to protect the creek. The members educated themselves on the tangled knot of agencies and departments that have jurisdiction over streams and went door-to-door distributing booklets that explained the laws protecting the creek. Even real estate agents who sold creekside properties received copies.
It's an ongoing battle, and some say the laws need more teeth. As Pelcyger and I spoke at the creek's edge one hot June day, the sound of construction shattered the stillness, and Pelcyger looked concerned. She recounted how one neighbor had dammed Kenter Creek for a goldfish pond. Another created a bridge just above the water. A third allowed non-native plants to choke the creek bed. Others have built pools perilously close to the banks. During winter storms, flooding could send debris, silt, or chlorine hurtling downstream. Already, one species of toad that used to live in the creek has disappeared, the association says.
Along Canyon View Drive north of Sunset where homes overlook the creek, major construction and grading are visible at several properties. It's unclear whether the owners are aware of the laws in place to protect waterways.
"The difficulty is that Kenter Creek runs through private property, so the city is less interested in protecting it with the energy that they should, simply because it's blocked off to the public," Pelcyger says. At her age, she can't troop up and down its length playing creek police. Properties constantly change hands, and the hot real estate market fuels pressure to demolish and build ever-bigger properties.
"It's hard to know what goes on behind high walls," Pelcyger says. But she wishes fervently for responsible stewardship of the fragile creek. "So few of them are left, and once it's gone, it's gone."•
Denise Hamilton
Denise Hamilton is a Los Angeles native, crime novelist, and former reporter for the Los Angeles Times.