Breadcrumb Trail links
Travel
Re-discover SoCal at your own pace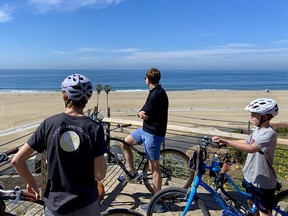 Cyclists on a tour with The Bike Center in Santa Monica stop to enjoy a view over the broad swath of sandy beach. Photo by Suzanne Morphet
Reviews and recommendations are unbiased and products are independently selected. Postmedia may earn an affiliate commission from purchases made through links on this page.
Article content
From the window of my hotel on Ocean Boulevard I see runners, rollerbladers, cyclists and people walking dogs in Palisades Park, a narrow strip of manicured greenery on a bluff overlooking the unbelievably broad, sandy beach.
Advertisement 2
This advertisement has not been loaded yet, but your article continues below.
Article content
Out on the water a couple guys catch small waves on their boards while someone else powers past in a sleek rowing shell.
Perhaps it's no surprise that the Santa Monicans always seem to be on the move. This city boasts one of the most comfortable climates in California – not too hot, not too cold – and it's also home of the original Muscle Beach, which birthed America's fitness boom in 1934.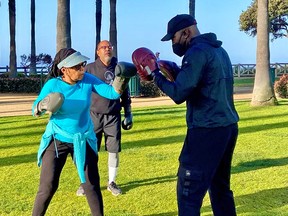 Santa Monican of all ages find ways to exercise outdoors year-round, including boxing in Palisades Park. Photo by Suzanne Morphet
I'm not here to get fit, but simply to fit in a few days to rediscover SoCal after a two year absence.
First up, a bike tour led by Chad Reinhart, an improv comedian at the Westside Comedy Theater by night, bike guide by day at The Bike Centre. It's just me and a family of five from Mississippi as we follow Chad, first along quiet city streets, then onto the impressive 35-km long bike trail that locals call The Strand. To our north the mansions of Malibu hug the curving bay. To our south extends Santa Monica's famous pier, topped with a Ferris wheel, roller coaster and other attractions.
Cycling under the pier we stop on the far side to watch skateboarders carve the sunken pools of the Venice Beach Skatepark. They really do look like dry swimming pools and Chad tells us that's how skateboarding began.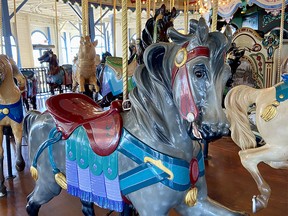 The hand carved and painted horses at the carousel on the Santa Monica Pier will be 100 years old this September. Photo by Suzanne Morphet
"There was a drought one year and nobody could put water in their pools," so kids in the nearby San Fernando Valley started jumped into them on their skateboards instead.
We pass helped a dozen production trucks and trailers. Hollywood is only 15 miles away, Chad points out. When he first moved here from Missouri, he worked at a beach camp one summer where he got a bit of a culture shock. "I came with my bologna sandwich and chips and the kids at camp had freshly-rolled sushi," he chuckles. "Then you find out, you know, that this kid's mom is Diane Keaton or this kid's dad is Eddie Murphy!"
Advertisement 3
This advertisement has not been loaded yet, but your article continues below.
Article content
We turn inland to explore a couple of the canals dug at the turn of the 20th century when wealthy developer Abbot Kinney created the Venice neighborhood. For the grand opening, "he even brought gondoliers from Italy," says Chad.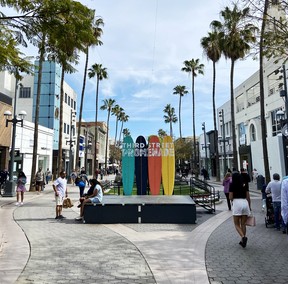 Santa Monica's Third St Promenade is the place to head if you're into shopping. Three pedestrian-only blocks of shops are anchored by the upscale Santa Monica Place. Photo by Suzanne Morphet
Back in Santa Monica at the end of our ride, the mom from Mississippi confides she's wishing her family was staying longer. "I love the shopping, I love the beach, I love the pier."
The pier is fascinating, for sure. But I have to wonder why 11 to 12 million people per year would visit what looks like a small amusement park. Sure, there's the old-fashioned fun of the Ferris wheel, but there's also a lot of history, Executive Director Jim Morris tells me when I meet him at the pier one morning. The hand-carved and painted horses in the carousel, for instance, will be 100 years old this September.
So there's nostalgia. "People used to be able to drive right to the end of this pier and that was the draw for anyone driving Route 66," he says as we stroll almost half a km to the end, where signs suggest it's also the end of the famous highway. That's actually a few streets over according to Jim, but this ending is more romantic.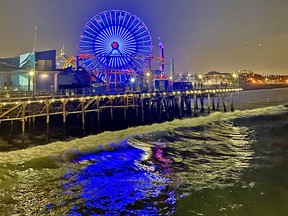 The Santa Monica Pier is always alive, especially at night when the roller coaster and Ferris wheel light up the sky. Photo by Suzanne Morphet
Something else Santa Monica has long been known for is its food, especially its farmers' markets. The Wednesday morning market spreads over four blocks and is a favorite of chefs from all over Los Angeles County. Today, local celebrity chef Govind Armstrong, who runs Lobster, at the foot of the pier, is here sampling the colorful seasonal produce.
Advertisement 4
This advertisement has not been loaded yet, but your article continues below.
Article content
"I trust my buyers who have great relationships with the farmers, but it's nice to come down [myself] and touch and feel and taste," he says, popping a juicy red Juliet tomato into his mouth.
Feeling hungry, I head to the elegant and airy Lobby Lounge at the Fairmont Miramar, just a block from where I'm staying at Oceana Hotel. Later, I appreciate a deep massage at Exhale Spa, known around town for its experienced massage therapists. Mine certainly found knots I didn't know I had.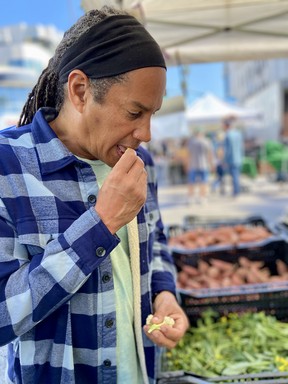 Celebrity chef Govind Armstrong samples cauliflower at the Wednesday morning farmers market in downtown Santa Monica. Photo by Suzanne Morphet
On my last night I dine at Lobster. Partly, I want to see what Govind has cooked up, but I also want to enjoy a SoCal sunset from possibly the best perch in Santa Monica. My main course is a no-brainer, as it's the last night of the season for California spiny lobster.
Ryan O'Connor, the restaurant's service and beverage manager, stops by to suggest wine and tells us the setting sun will sometimes reflect off the big windows of homes in Malibu. "And from a distance, it looks like the foothills of the Santa Monica Mountains are on fire."
We don't see any flames, but this place sure feels hot, like the good times are back.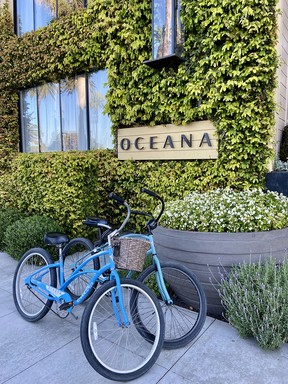 Oceana Hotel offers guests complementary bikes. The hotel is just minutes from the 35-km long bike trail that locals call The Strand. Photo by Suzanne Morphet
If you go
Oceana Santa Monica Hotel occupies prime real estate with 70 spacious suites overlooking an interior courtyard with pool. Some also come with ocean views.
The Fairmont Miramar Hotel & Bungalows offers almost 300 rooms, suites and bungalows, many with ocean views.
The writer was a guest of Santa Monica Travel & Tourism. It did not review or approve this story.
Share this article on your social network
Advertisement 1
This advertisement has not been loaded yet, but your article continues below.
Regina Leader Post Headline News
By clicking on the sign up button you consent to receive the above newsletter from Postmedia Network Inc. You may unsubscribe any time by clicking on the unsubscribe link at the bottom of our emails. Postmedia Network Inc | 365 Bloor Street East, Toronto, Ontario, M4W 3L4 | 416-383-2300
Thanks for signing up!
Comments
Postmedia is committed to maintaining a lively but civil forum for discussion and encouraging all readers to share their views on our articles. Comments may take up to an hour for moderation before appearing on the site. We ask you to keep your comments relevant and respectful. We have enabled email notifications—you will now receive an email if you receive a reply to your comment, there is an update to a comment thread you follow or if a user you follow comments. Visit our Community Guidelines for more information and details on how to adjust your email settings.