LOS ANGELES — It was an almost year for the Los Angeles Chargers. As in, they won almost enough games to make the playoffs. It came down to the final game of the season — a game they almost won in overtime. But they didn't. The Las Vegas Raiders beat the Chargers 35-32 with a field goal as time expired in Week 18, grabbing the playoff spot the Chargers wanted.
Quarterback Justin Herbert solidified his role as a superstar in the offense by throwing for 383 yards and three touchdown passes in that game, leading the Chargers (9-8) back from 15 points down in the fourth quarter to force overtime. He ended the season by throwing for 5,014 yards (second in the NFL to Tom Brady) and 38 touchdown passes (third behind Brady and Matthew Stafford). And the future looks bright.
The Chargers got a full season out of safety Derwin James Jr., who missed most of the previous two seasons before putting on a Pro Bowl performance in 2021. Running back Austin Ekeler scored 20 touchdowns while receivers Keenan Allen and Mike Williams (who is a free agent) both had more than 1,100 receiving yards.
That's the good news. the bad The Chargers were put in the do-or-die situation vs. the Raiders thanks to an inexplicable loss to the Texans (who finished 4-13) in Week 16. Nearly everyone (on the Chargers side anyway) thought they would win that game and the team was crushed mentally by the result, which turned out to be costly as they missed the playoffs for a third straight season.
They need to reset and regroup, draft well and use their sizable cap space (second-most in the league) to find defensive linemen and linebackers to help shore up their struggling defense. Then they will be a team nobody wants to face.
• Ranking the top 50 free agents »
• 32 teams, 32 free agent decisions »
• Best team fits » | Top WRs available »
• Overhaul tiers » | Off-season priorities »
More NFL free agency coverage »
They're almost there.
Projected salary cap space: $54.61 million
Top free agents: WR Mike Williams, LB Uchenna Nwosu, DE Justin Jones, DT Linval Joseph, CB Chris Harris Jr., TE Jared Cook, OG Oday Aboushi, LB Kyzir White
Potential cut candidates: Right tackle Bryan Bulaga only played one game, injuring his back in Week 1 vs. Washington. He's played 11 games for the Chargers since signing as a free agent in 2020 and will be 33 next season. He has one more year left on his contract. The Chargers need an upgrade, as Storm Norton failed to step up in his place, as he struggled in many big moments, including in Week 18 against Raiders Pro Bowl defensive end Maxx Crosby.
The big question: What will second-year coach Brandon Staley and general manager Tom Telesco do to bolster the team's rush defense? Midway through the 2021 season, the Chargers were at the bottom of the NFL in defending the run, letting opposing offenses rush for more than 140 yards per game. They improved slightly down the stretch, but they must draft wisely and count on Jones to stay healthy up front (provided the Chargers can re-sign him), as the run defense suffered in the six games he missed. The defense finished last in third-down conversion percentage (49.5%), was tied for 29th in points allowed (27.0) and 26th in expected points added (minus-80.49) Those figures need to be corrected if the Chargers are to make the playoffs , be a contender for the AFC West title and have a chance at making a run to the Super Bowl.
Best case scenario: Staley is big on health and activation drills and they work to keep his players healthy. The defense improves thanks to improved talent brought in through the draft and free agency and players such as linebacker Kenneth Murray Jr., the Chargers' other first-round pick in 2020, taking a step forward. Also, convincing Williams to stay and build on his career year in 2021 would help.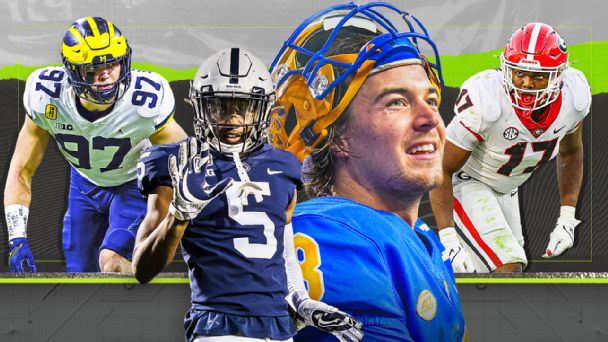 • Rankings: Kiper » | McShay »
• Mocks: Kipers » | McShay » | reid »
• Meet the QBs in the 2022 class »
• Draft order » | First Draft podcast »
• More coverage » | full ranking »
Worst case scenario: That the Chargers' bad offseason injury luck occurs again and takes out a big player such as Herbert. The Chargers are unable to use their cap space to convince Williams to return and are unable to find an upgrade for Cook at tight end, leaving Herbert with fewer weapons. The defense is unable to find the right pieces at corner or along the front, setting it up for another struggle in 2022.
Early look at the NFL draft, from ESPN analyst Jordan Reid: Addressing the offensive and defensive lines and cornerback are three essentials for general manager Tom Telesco this offseason. Finding protection for one of the best young signal-callers in the league is of the utmost importance. The Chargers struck gold with Rashawn Slater's left tackle last year, and they could look to solidify the bookends of their offensive line by drafting another tackle. Attacking a strong cornerback class is also another route they could go. The personnel in the middle of the D-line must improve, too; they had the league's worst run defense in 2021.
Top needs: IDL, CB, OT
Top Pick: No. 17