Three new LA-based beverage brands—Bored Breakfast Club, Yerb and Leisure Project—are also using the blockchain to build their companies and engage with customers in different ways. Each is using NFTs to kickstart their direct-to-consumer businesses and build interest in their brands.
The goal is to use the transparency and equity inherent in blockchain technology to attract early adopters—giving them an opportunity to test ideas and products before they're finalized—and encourage them to invest in a community built around their drinks.
Time will tell if each brand can deliver on that promise.
Bored Breakfast Club's NFT tokens feature the Bored Ape characters and serve as a subscription membership.
Bored Breakfast Club

One LA-based effort, Bored Breakfast Club, has looked to leverage the popularity of Bored Ape collectible NFTs to help jump start a new coffee subscription service.
Frogtown-based marketing agency Kley is leading the effort to use Bored Ape Yacht Club (BAYC) and Mutant Ape Yacht Club (MAYC) intellectual property to build direct-to-consumer coffee subscription memberships that are sold as NFTs on the Ethereum blockchain. The tokens themselves feature a breakfast scene that include BAYC and MAYC characters, and each functions as a coffee subscription membership.
BAYC and MAYC are considered two of the most popular and expensive NFT collections, according to OpenSea, a secondary NFT marketplace that also tracks their value. BYAC NFTs are valued at approximately 74.69 ETH ($244,041) on the platform.
Kley co-founder Brad Klemmer said the idea was to parlay the success of the Bored Apes brand into a new direct-to-consumer offering. Owners of the NFTs get two free coffee shipments and the possibility of more, if the project is a success.
Klemmer said the idea is to build a regular clientele for his coffee brand by shipping it directly to consumers, rather than relying on them to go to a coffee shop or grocery store. "You need a brand and community that puts their product on [consumers'] doorstep on a weekly basis," he said.
Bored Breakfast Club launched the project on Jan. 10, offering 5,000 NFTs for .08 ETH (approx. $250) each, and promising token holders they would receive a 12-ounce bag of a different variety of coffee for each of two NFT sales thresholds the company surprised. The NFTs have since sold out, meaning that the project will ship two bags of coffee to each token holder by the end of the month. The company has also created a "community coffee wallet" that could entitle token holders to still more coffee.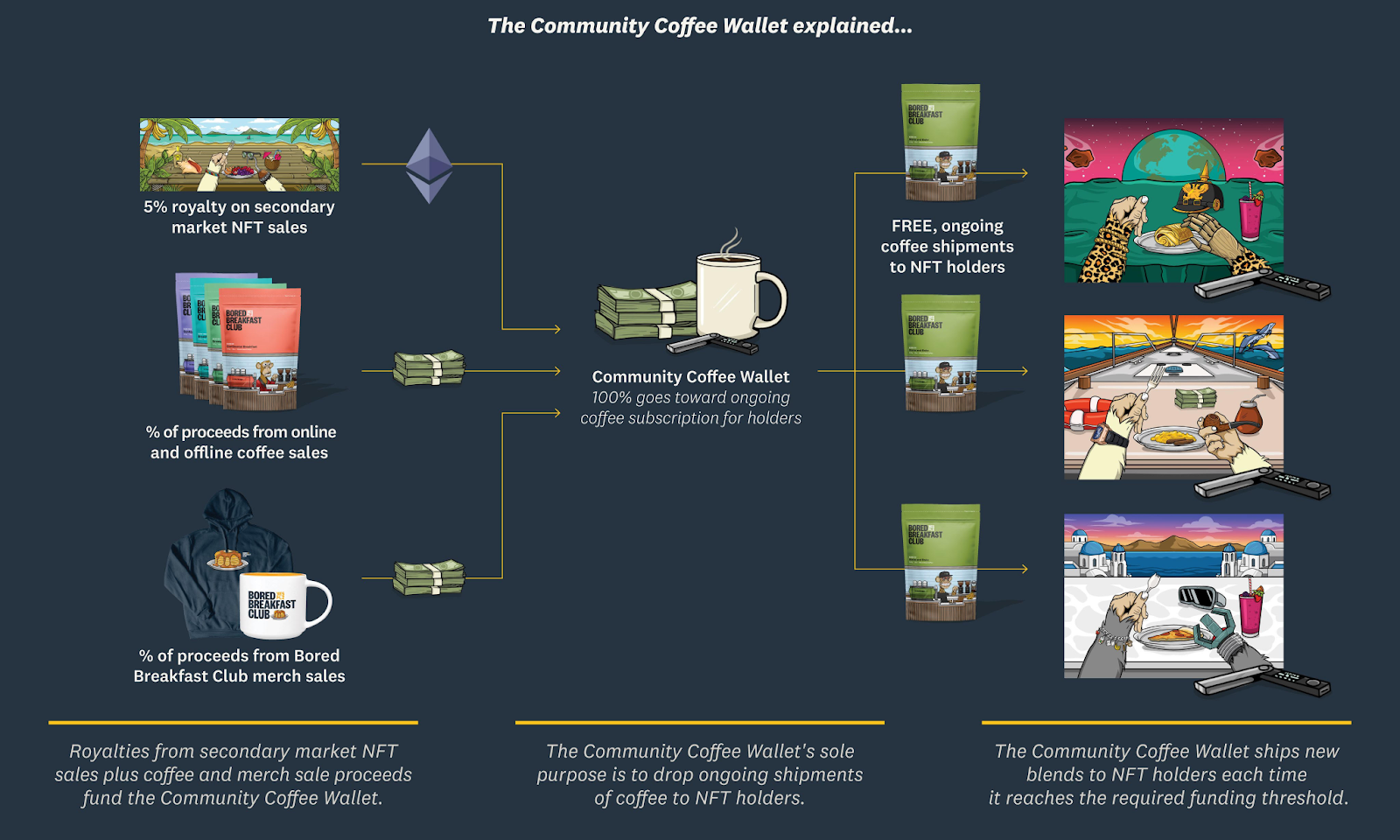 A graphic explains Bored Breakfast Club's "wallet" concept.
That's because the "wallet" collects funds from a 5% royalty on its NFTs that are bought and sold on the secondary market. Once it collects enough funds, the company will send additional blends to its 5,000 token holders. (Klemmer said they're waiting to get data from their initial shipments to determine how much it will cost to ship additional bags). That communal "wallet" will also pay to produce extra bags of coffee and Bored Breakfast Club merchandise to sell to non-NFT holders.
Klemmer said he sees the NFT offerings as a "fun way to buy coffee." Also, there were "similarities around NFT communities engaging with each other and what the DTC subscription model is trying to be."
Bored Breakfast Club works with Yes Plz Coffee, which sources, roasts, packages and delivers the coffee to NFT holders.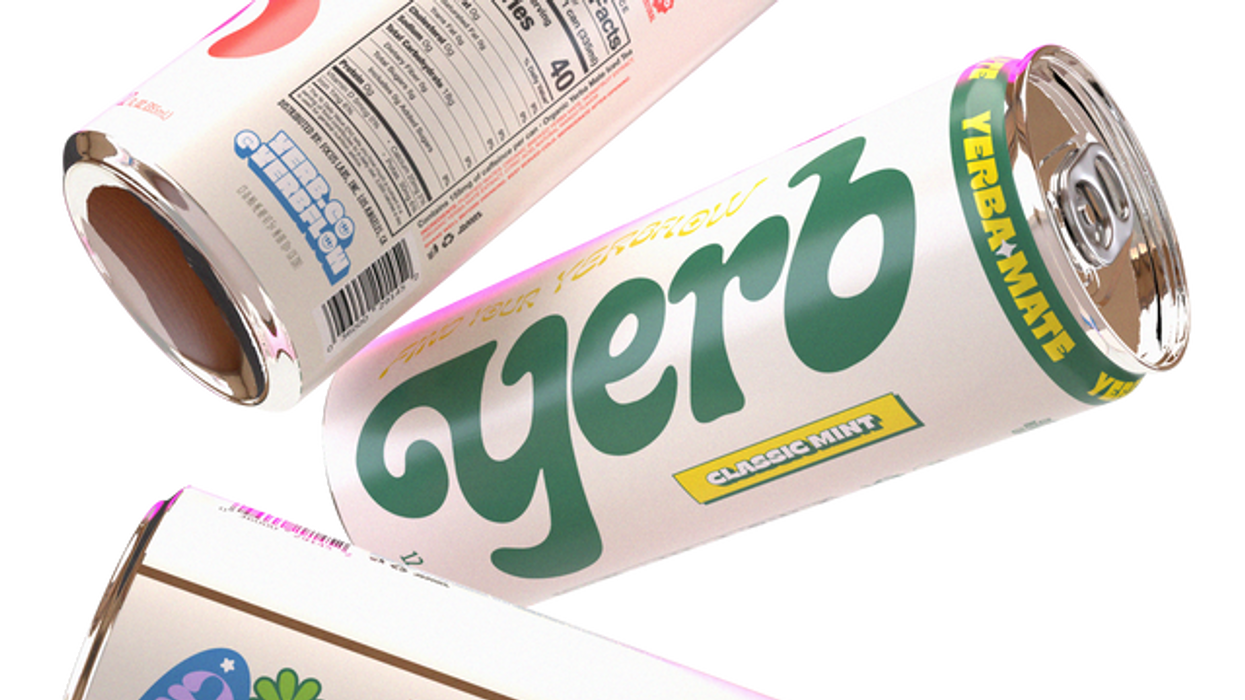 yerb

Yerb was born out of entrepreneur Brett Fink's habit of drinking yerba mate with friends, many of them creatives who were looking for a coffee alternative. The traditional South American drink is said to provide a calmer caffeine-imbibing experience than coffee.
Like Bored Breakfast Club, Fink is hoping to use NFTs to drum up interest in his business early on. But instead of relying on the popularity of a particular NFT brand, Fink sees an opportunity to use the blockchain to heighten awareness of his own brand and, hopefully, develop buy-in for its first product.
Fink, who has past experience building and growing consumer-packaged good (CPG) brands, including cannabis brands, thinks NFTs can help build a creative community around a product.
"If you believe what we believe, and want to create a product for the creative process, you can benefit from it, as there is a massive untapped opportunity in NFT and CPG projects," Fink said. "You need to get people to believe what you believe, then have them be involved and take ownership of that product."
Yerb's first yerba mate drink will be bottled in 12-ounce cans but sold through NFTs that cost 0.039 ETH (approx. $77 USD). The company started offering the tokens in February of last year; each entitles the holder to six cans of Yerb's first release, as well as an additional six-pack of cans every year that they hold the NFT. Yerb is hoping that the offer will help it identify early adopters who will buy-in to the brand as repeat customers.
Non-NFT holders will be able to purchase the drinks once token holders receive the first shipment. Yerb is targeting April 2022 for that release after hitting supply chain issues last year.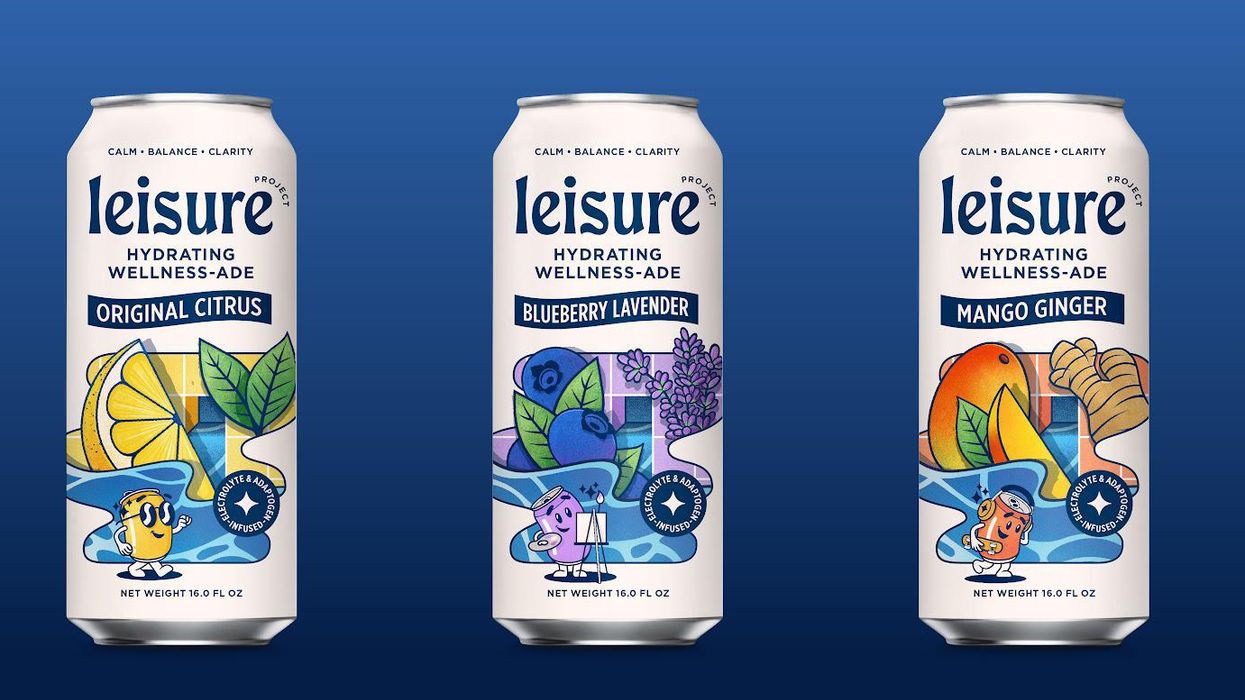 Leisure Project

Venice-based Leisure Project is taking a similar approach to Yerb by targeting creatives with an emphasis on community development.
The startup, which bills itself as "the world's first co-created beverage brand," hopes to market a kind of natural Gatorade for entrepreneurs, creators and innovators.
Leisure Project was started by former NCAA Division I athletes and brothers Steve Michaelsen, who works at Nike LA, and Alex Michaelsen, who works at TikTok marketing agency GO Ventures in Beverly Hills. The brothers, who have been bootstrapping the project themselves, have spent almost two years creating the brand's first three flavors.
In December, the Michaelsens announced plans to experiment with minting NFTs that would provide token holders with the first run of their beverages, cheaper pricing on additional flavors and the opportunity to pitch new products. Leisure Project has been sampling its drinks at local NFT events to drum up publicity.
Down the line, the company hopes to use the blockchain to give token holders access to a yet-to-be-defined "creator database" of potential partners and grants.
Leisure Project is in its early stages, but its founders hope to establish buy-in through NFTs and social platforms like Discord will help build an authentic community for their brand, and give them a potentially vital advantage over more-established competitors. "Big brands can't go backwards and do something community-oriented after the fact," Steve Michaelson said.
correction: An earlier version of this post said Bored Breakfast Club would ship four bags of coffee to early NFT holders as sales thresholds were met. The company has since changed that number to two.
From Your Site Articles
Related Articles Around the Web