LOS ANGELES—US Rep. Karen Bass will become the first female mayor of Los Angeles after opponent Rick Caruso conceded the race Nov. 16.
Bass appeared in front of more than a hundred supporters in the Mid-Wilshire area Nov. 17, a day after Caruso conceded defeat and the Associated Press called the race in her favor.
"To say the least—this was a tough campaign," Bass said. "But now it's time to come together and turn the page."
Los Angeles Mayor-Elect Karen Bass speaks with supporters in Los Angeles on Nov. 17, 2022. (John Fredricks/The Epoch Times)
By Nov. 16, Bass led with 53.06 percent of the vote to Caruso's 46.94 percent.
Bass, who will replace termed-out Eric Garcetti, said she had a "great phone call" last night with Caruso.
"I know that he will continue his civic participation in the city that we both love," she said.
Bass said she has always "admired" Caruso's "lifelong commitment" to Angelenos and that she looks forward to working with him in the future. She did not clarify whether she would have a spot for Caruso in her administration.
Homelessness and public safety were the top issues for Los Angeles voters, according to polling throughout the election season. Each candidate doubled down on their strategies to tackle crime and homelessness during their campaigns.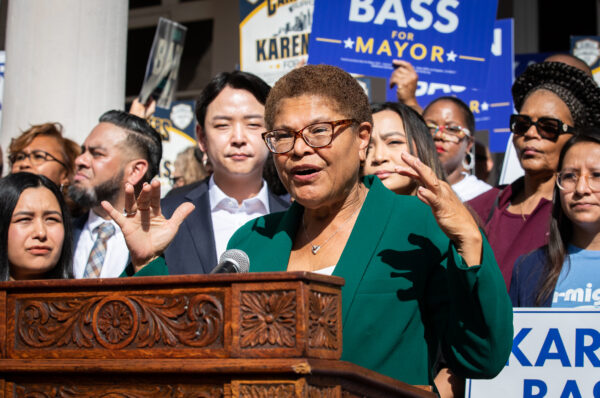 Los Angeles Mayor-Elect Karen Bass speaks with supporters in Los Angeles on Nov. 17, 2022. (John Fredricks/The Epoch Times)
According to the latest point-in-time count by the Los Angeles Housing Services Authority, there are 41,980 homeless people in Los Angeles.
Additionally, Los Angeles Police Department Chief Michel Moore has reported a 45 percent increase in robberies with a firearm compared to 2019 and a nearly 4 percent increase in violent crime compared to the same time last year.
"Tonight, 40,000 Angelenos will sleep without a home and five might not wake up," Bass told supporters. "Many Angelenos do not feel safe in their neighborhoods, and families are being priced out of their communities. This must change. And so, to the people of Los Angeles, my message is we are going to solve homelessness, we're going to prevent and respond urgently to crime, and Los Angeles will no longer be unaffordable for working families."
Bass added that "good jobs and affordable housing" are on the way.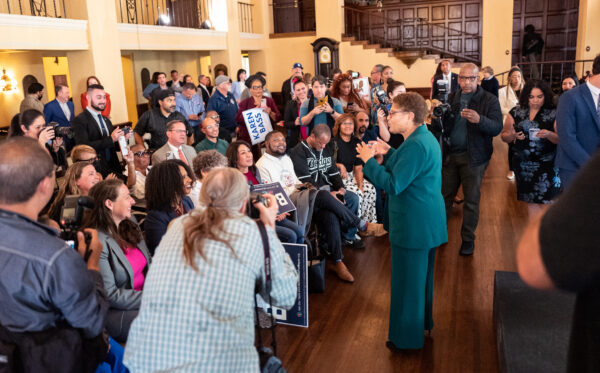 Los Angeles Mayor-Elect Karen Bass speaks with supporters in Los Angeles on Nov. 17, 2022. (John Fredricks/The Epoch Times)
The new mayor-elect has been in politics since the 1980s and was endorsed by top Democrats, including President Joe Biden, Vice President Kamala Harris, former Secretary Hillary Clinton, former President Barack Obama, and House Speaker Nancy Pelosi.
Caruso, a billionaire builder known for constructing some of Los Angeles' most beloved malls and plazas, held a narrow lead over Bass shortly after election night. But as ballots continued to be counted in the following days, she chipped away at his lead.
"While we came up short in the count, we made an indelible impact on this city and its people that will last far beyond the campaign trail or Election Day," Caruso said in a statement Nov. 16. "We elevated the discourse of the campaign and focused attention on the issues that matter."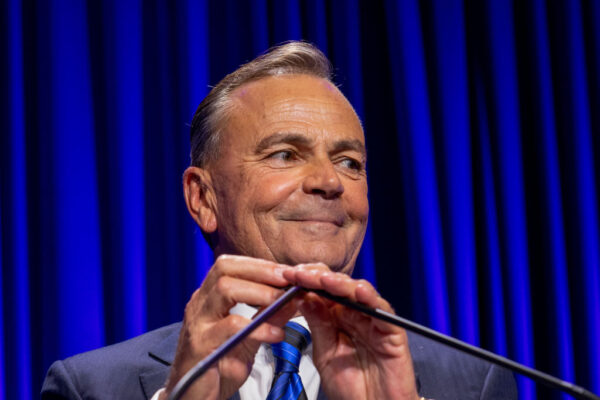 Los Angeles mayoral candidate Rick Caruso speaks to supporters during an election night party in Los Angeles on Nov. 8, 2022. (David McNew/Getty Images)
Caruso, a former president of the city's Police Commission, ran on a campaign to restore public trust in law enforcement and rebuild the understaffed police force. The developer also planned to cut through red tape for building cheaper supportive housing units for the homeless in a shorter time.
"From day one, we exposed the [deep-seated] corruption and built-in mechanisms that foster that corruption. We never wavered in our support for our first responders, the brave men and women of the LAPD, [Los Angeles Fire Department]and other law enforcement agencies who constantly amaze our communities with their courage, acts of heroism and service," he said.
Bass will be sworn into office Dec. 12 and said this transition period would not be just a quick three-week transition team, but instead, one in which those assisting now would be part of her administration.
Garcetti wrote on Twitter Nov. 16 that Bass "has my full unconditional support through this transition period."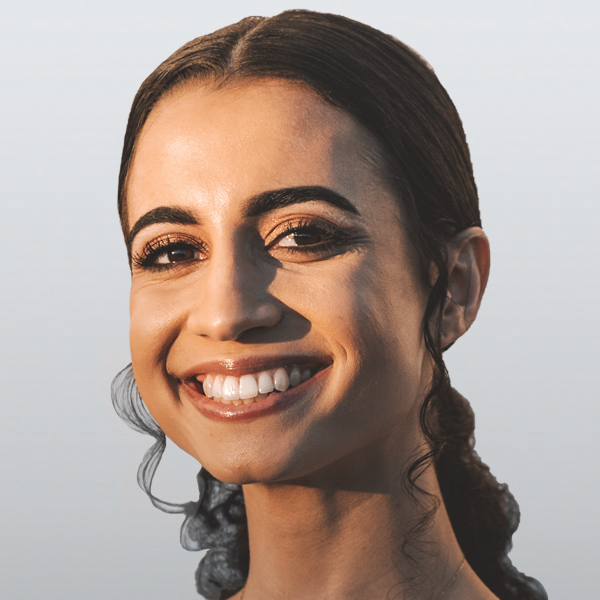 Follow
Jamie is a California-based reporter covering issues in Los Angeles and state policies for The Epoch Times. In her free time, she enjoys reading nonfiction and thrillers, going to the beach, studying Christian theology, and writing poetry. You can always find Jamie writing breaking news with a cup of tea in hand.