While waiting in Hollywood for a subway train, Maritza Mancilla shielded herself behind the escalator that brought passengers into the fluorescent-lit subway.
She wanted to see the newcomers before they could see them.
The 55-year-old, who depends on local public transport to get to her job as a cleaning lady, has experienced fights on the train. She saw a man try to open the car doors while they were moving. A man exposed himself to her at the Hollywood / Western metro station earlier this year.
"If I could work from home, I would," she says.
With the pandemic easing and bans lifted, a return to normal has brought benefits: increased economic activity, more people going back to work, school and holiday get-togethers, and social interactions.
But in Los Angeles public transit – where rider numbers have recovered from a pandemic low of about 363,800 to about 843,000 daily drivers on weekdays – normality has also brought about an increase in crime.
In 2021 through September, violent crime reports increased 25% from the same point in time last year and 9% from 2019, according to data from the LA County Metropolitan Transportation Authority. Some crimes, such as serious assaults, have exceeded pre-pandemic levels, even though bus and rail passenger traffic has not yet fully recovered.
Although still rare, the number of homicides rose from one in 2019 to three in 2020, the first full year of the pandemic. So far in 2021, five people have been killed in train stations or on public transport, including a 28-year-old woman who was fatally shot on the train on her way to work.
While most people ride public transport without incident, the problem of crime recently sparked a dispute between LA County Sheriff Alex Villanueva and Metro board members over the future of law enforcement in the system. At a press conference to argue for his department's contract with Metro to be renewed, the sheriff rattled down a list of eight violent crimes dating back to 2019, including shootings, knife wounds and sexual assault. He described the incidents as "the level of slaughter" that happens on trains.
Inglewood Mayor James T. Butts, on Metro's board of directors, said he saw Villanueva's violent crimes compilation "as public recognition for his failure to prevent these crimes."
Butts, a former Santa Monica police chief, added that given the sheer size of the public transportation system, there was no reason to scare people with crime numbers.
"The press conference was a political exercise that provided statistics with no perspective," Butts said during a meeting of the Metro committee. "Given the millions of passengers that Metro serves each year, crime statistics per capita and city are low compared to cities."
Commuters ride an escalator at the Metro Red Line's North Hollywood station at street level on Tuesday, November 16, 2021 in Los Angeles, California.
(Brian van der Brug / Los Angeles Times)
On a Friday morning, more than a dozen people were waiting for their train on their way to work, school, or errands at the Hollywood / Western station.
Maria Herrera had just finished an eight-hour night shift. The 55-year-old, who cannot drive, depends on her daughters and local public transport to get to work five days a week.
Herrera said she stopped taking the night train a long time ago and is relying on ride-sharing apps, which are getting more and more expensive.
"Poor people suffer most," said Herrera. But when it comes to crime, she said, "We're all exposed."
"It doesn't matter if you are older or younger," she said. "That's why a lot of people don't stop using their car."
Security guards pass through Union Station on November 16.
(Brian van der Brug / Los Angeles Times)
That year, through September, there were 470 violent crimes across the system. In 2020, over the same period, there were 375. In 2019, before the start of the pandemic, there were 432.
The number of robberies has dropped to 165 in the past two years, but homicide, rape, aggression, and gross assault reports were higher this year during the same period in 2019 and 2020.
Judy Gerhardt, chief of systems security and law enforcement at Metro, said the rise in crime seems part of a larger trend in the US
"As our community grapples with the challenges posed by COVID, the increase in the unprotected population in the system, and other social factors emerging now, we are seeing crime rates rise – not just in the system, but locally and even in the." all over the country, "said Gerhardt. "Our goal is to minimize all crimes on the system in every way."
There have been five murders that year, the last one on November 21 when a man was shot in the head at Willowbrook / Rosa Parks tube station. Suspects are held in custody in all murders.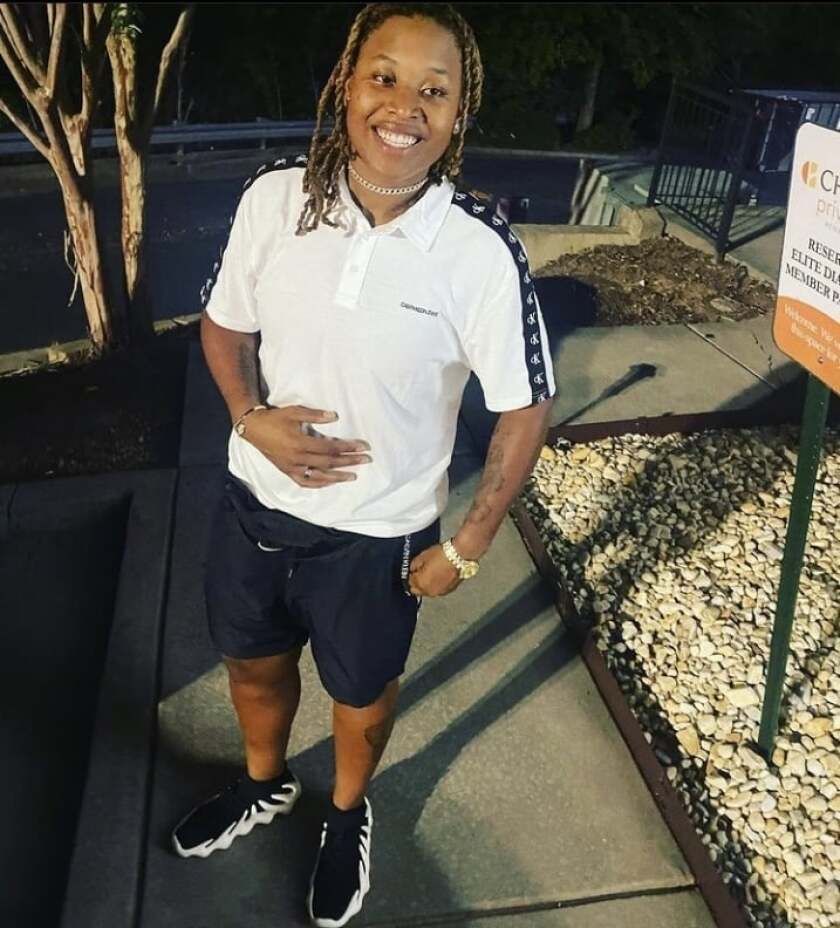 Danielle Harlemon, 28, was fatally shot and killed on October 10 while taking the train to work.
(Eddie Harlemon III)
For Danielle Harlemon's family, her death was as unexpected as it was distant from what she once called home.
The 28-year-old followed her dream of moving from Atlanta to California two years ago. Her older sister said she loved the sea.
Almost every day, Harlemon woke up before the sun rose to make it on time to the marijuana dispensary in downtown LA, where she worked as a master breeder.
Her mother Demetria said on a number of occasions she overheard her daughter being molested during her daily calls at the train station.
"I asked her, 'Where's the security? How does it all work with public transport? '"Demetria, 54, remembers. "Why is there no one who gives you comfort?"
Harlemon wanted to start driving and saved up to buy a jeep by Christmas.
On October 10, Harlemon was sitting on the Metro B train when an excited man paced nearby. He started arguing with her. When the train stopped at Hollywood / Vine station, the man shot Harlemon and fled, the police said. She died in a nearby hospital.
"It breaks me every day that she was on my way to work," said Demetria. "That this happened just shocked me."
Less than a month later, police arrested Andre Dunlap, 23, who had fled to his home state of Indiana. Dunlap, who was not housed at the time of the shooting, was on parole for attempted robbery in Los Angeles, according to the LAPD. Since then, he has been charged with murder.
Villanueva quoted Harlemon's death at the November 17th press conference. He criticized Metro's Public Safety Advisory Committee for recommending a shift to alternatives without law enforcement agencies such as transit ambassadors, which he believed would provide "an illusion of security".
"We must take these matters seriously because lives are at stake, lives on the system are at risk and the callous disregard for passenger safety is alarming," said Villanueva.
Since 2017, Metro has divided the police tasks into the Los Angeles Police Department, which patrols buses, trains and stations in the city of LA; Long Beach Police, who operate eight stations on the Blue Line; and the LA County Sheriff's Department that patrols the rest of the system. The contracts expire in 2022.
Following protests following the assassination of George Floyd, Metro's board of directors sought recommendations on reforming the agency's police practice and reallocating resources to other forms of community security, leading to the establishment of a public security advisory committee.
The committee has recommended that the Board not allocate additional funds to existing police contracts with government agencies and reallocate this money to support mental health, homeless services and unarmed transit ambassadors who can de-escalate potentially violent situations.
Villanueva "pointed out crimes and people who feel unsafe while passing through. Contracts have skyrocketed over the years and we don't see the transportation system feeling any safer, "said committee member Scarlett De Leon. "For PSAC members and myself, what else can we do to get to the root of security?"
Metro has recommended that the board approve funding for the remaining six months of the law enforcement contracts totaling $ 75.2 million and approve an extension for up to one year. In a statement, the agency said this would give the Public Safety Advisory Committee "sufficient time to finalize its long-term recommendations".
Metro board members criticized Villanueva during a meeting of the committee on operations, safety and customer experience last Thursday.
"The head of an agency charged with ensuring the public safety of this system was holding a press conference trying to scare and frighten the drivers of our system … trying to panic," said the chairman of the LA committee, Mike Bonin. "We have an agency run by a man who doesn't guarantee public safety, doesn't manage the contract well and then wants more money."
On December 2nd, the board of directors will vote on whether the remaining six months will be financed and the contracts extended.
Subway riders will take the Metro Red Line on November 16.
(Brian van der Brug / Los Angeles Times)
Richard Diamond was waiting at Hollywood / Western Station to board a train to North Hollywood. Diamond, who lives in Glendale, takes public transportation to medical appointments in Encino every month.
When it comes to police presence, he is quick to say that it should be "reduced".
"They're only there to give you a ticket and harass you. You're not there for security reasons, "said Diamond, who is Black. "When do you really see them solving another problem other than giving a ticket or worrying about whether you've paid your fare? It's more of a harassment than doing something that has helped me. "
The 47-year-old said he wasn't worried about taking the train. When out of the office for a decade, he took it with him to North Hollywood, came back, and then made his way to Long Beach. But he would always "sleep with one eye open".
"You're never really safe, especially in the big city," said Diamond. "But in general, people look out for each other, whether you notice it or not."