As the son of two of the biggest stars in Hollywood and an actor himself, Jaden Smith is used to seeing his name and his parents Will Smith and Jada Pinkett Smith's names in the headlines from time to time. And after the 94th Academy Awards that took place on March 27, his father's "slap heard 'round the world" is all anyone has been talking about.
Following the incident in which Will slapped comedian Chris Rock across his face for telling a joke about Jada, Jaden threw in his two cents via social media. Now, his tweet is raising some eyebrows. Here's more on that, plus a few details about the $4 million mansion the Smiths' son calls home.
Jaden Smith, who owns a Hidden Hills home, poses on the carpet at the BEL-AIR premiere party with parents Will Smith and Jada Pinkett Smith | Amy Sussman/WireImage
Jaden's tweet after his dad slapped Chris Rock
There were some great moments during the Oscars with plenty of deserving nominees taking home a golden statue. But one of the biggest wasn't an acceptance speech. Instead, it was Jaden's dad shocking everyone after Rock joked about his wife.
"Jada, I love ya, GI Jane 2, can't wait to see it," the comedian said. Jada has spoken out in the past about her struggle with alopecia and did not look happy at all when Rock made that joke. At first, Will laughed but when he saw Jada's reaction he marched up on stage and smacked Rock in his mouth. When he returned to his seat, the King Richard actor yelled at the Down to Earth star to "Keep my wife's name out your f***ing mouth."
*{padding:0;margin:0;overflow:hidden}html,body{height:100%}img,span{position:absolute;width:100%;top:0;bottom:0;margin:auto}span{ height:1.5em;text-align:center;font:48px/1.5 sans-serif;color:white;text-shadow:0 0 0.5em black}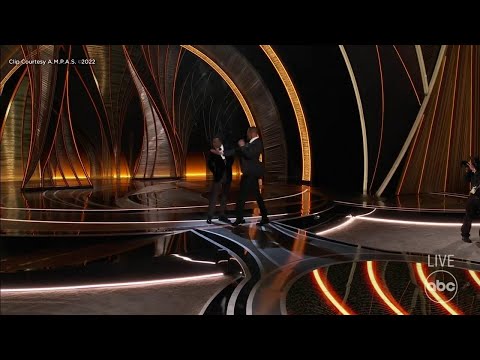 *{padding:0;margin:0;overflow:hidden}html,body{height:100%}img,span{position:absolute;width:100%;top:0;bottom:0;margin:auto}span{ height:1.5em;text-align:center;font:48px/1.5 sans-serif;color:white;text-shadow:0 0 0.5em black}