There was plenty of drama among the Open Division amateur teams in the opening round of the 2022 Lamar Hunt US Open Cup. Sixteen teams advanced to Round 2 where they will face professional teams the week of April 5-7.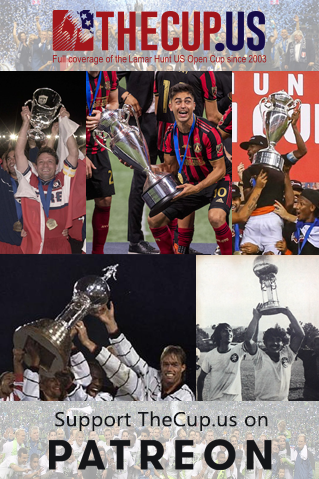 There were plenty of standout individual performances in the First Round of the 107th edition of the tournament.
The award is voted on by TheCup.us staff and a select panel from the North American Soccer Reporters but if YOU had a vote, which player do you think would win?
Here are the finalists (in alphabetical order):
Jean Philippe Ayolmbong
Northern Virginia FC (USASA/EPSL)
Ayolmbong assisted on NoVa FC's opening goal in the 13th minute, and then scored what would prove to be the game-winning goal in the 48th minute in his club's 3-1 road win over Lynchburg FC (USASA/UPSL).
Mazy run, 🆒 finish
Jean-Philippe Oyolmbong picks up the ball in midfield and does a happy dance toward the @LynchburgFC goal to put @NovaFc back into the lead.
1-2 | #USOC2022 pic.twitter.com/FQHIji8qh7
— US Open Cup (@opencup) March 31, 2022
Tomas Bosuel
San Fernando Valley FC (USASA/UPSL)
Bosuel contributed the only hat trick of the First Round in a wild 6-2 victory over Escondido FC (USASA/UPSL) plus drew a penalty that added another SFVFC goal.
Lucas Espindola
Miami United FC (NPSL)
Espindola scored a late go-ahead goal in the 83rd minute plus a PK goal in stoppage time to give Miami United FC (NPSL) a 3-1 home win over City Soccer FC (USSSA/NSL). With the win, MUFC earns a date with USL Championship side Miami FC in the next round.
This sequence between @miamiunitedfc & @citysoccer_fc was WILD! | #USOC2022 pic.twitter.com/EKunk2M1IQ
— US Open Cup (@opencup) March 24, 2022
Dave Greczek
FC Motown (NPSL)
Greczek made four saves and earned a clean sheet in FC Motown's 1-0 home win over West Chester United (USL-2). After the original match was complete, the USSF ordered the game to be replayed after FC Motown protested the result (West Chester won 3-2 in extra time) after WCU made an illegal substitution.
Jacob Mannix
Western Mass Pioneers (USL-2)
Mannix played a part in both of the Pioneers' goals in their 2-0 home win over Brockton FC United (USASA/Bay State Soccer League). A cross early in the second half was headed in by Gabriel Ganzer then, after having to play most of the rest of the half with 10 men, he sealed the victory with a goal in stoppage time.
Junior Rosero
Oyster Bay United FC (USASA/UPSL)
Rosero helped make Oyster Bay United's Open Cup debut a memorable one, playing a part in all three goals in their 3-0 road win over Hartford City (NPSL). The forward opened scoring in the 16th minute and assisted on the others to help send the new club to the Second Round where they will play Hartford Athletic (USL Championship).
Alessando Salvedego
Des Moines Menace (USL-2)
Salvedego put the Menace ahead for good with two second half goals in a 4-2 home win against Minneapolis City (NPSL).
HONORABLE MENTION – GOAL OF THE ROUND
Lionel Vang
Minneapolis City SC (NPSL)
Vang opened the scoring in the 20th minute in his team's match against Des Moines. The free kick strike from 31 yards out was so good it made SportsCenter's Top 10 the next day, taking home silver as the #2 best play from the previous day.
Because it was that good! @mplscitysc @ESPNTop @lionelvang #AuggiePride pic.twitter.com/bZeHewmSm9
— Augsburg Soccer (@AugsburgSoccer) March 24, 2022