3 men injured in a commercial building fire
Investigators are working to find out what caused a major fire in a commercial building in Canoga Park.
THE ANGEL – Two people were killed and two people injured when a large fire started Monday afternoon in a commercial building in western San Fernando Valley, fire departments said. Investigators were working to determine if the fire had broken out in a cannabis store.
Three men described as "civilians" were burned, two severely and one severely, the Los Angeles Fire Department reported.
On Tuesday morning, the LAFD announced that a body had been found inside the building and that one of the victims had died in a local hospital.
The authorities did not publish the names of the four victims.
FIRE IGNITION IN CANOGA PARK
The fire department was called to the location in Canoga Park shortly after 12.15 p.m. near the intersection of Canoga Avenue and Roscoe Boulevard.
The Los Angeles Fire Department said 150 firefighters have been dispatched to put out the flames. In order to prevent the fire from spreading to neighboring buildings, the crew quickly took defensive measures.
Firefighters said explosions were "noticed from within".
"I heard that loud explosion and thought it sounded like an earthquake," said one witness.
A video from SkyFOX showed that several vehicles caught fire as a result of the fire.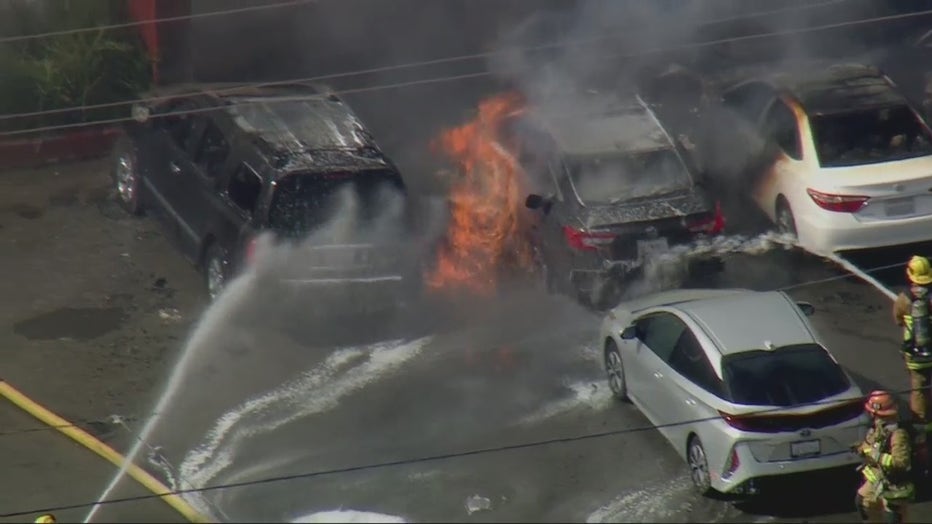 Officials discovered on Tuesday that hashish was found in the building.
Further information was not immediately published.
The investigation continues.